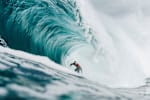 GOT QUESTIONS?
We got you covered.
You're an inquisitive person. We like that. Here are a few answers to satisfy your curiosity about the U.S. Graduate Program:
What's a Graduate Program?

The Red Bull Graduate Program is an intense 18-month development program like no other. It's designed for recent graduates and while specific responsibilities vary, the program provides a unique opportunity to gain insight and hands-on experience with the daily operations of a global brand.

What's the duration of the U.S. Graduate Program?

18 months, starting in July 2021.

When can I apply for the U.S. Graduate Program?

Applications for the 2021 U.S. Graduate Program open on January 29, 2021.

Which U.S. locations are looking for Graduates?

Graduate Program opportunities will be available in Atlanta, New York and Santa Monica.

You mentioned academic excellence. Is there a GPA requirement to apply?

While a good GPA helps, we take many other factors into account when reviewing applications.

When will I get feedback regarding my application?

You'll hear back from us by March 2021 at the latest.

Will I stay in the U.S. the whole 18 months or will I travel to other countries?

While in general, the U.S. Graduate Program does not require any international travel, there may be exceptions (local travel or otherwise) based on the specifics of your projects, department and the overall needs of the business.

Will I have a specific career plan mapped out for me?

At Red Bull you're in the driver's seat. You get to drive your own development and growth with the support and coaching of your manager. We believe in 'Big Jobs' at Red Bull and in the Graduate Program, you'll start in a big role because we believe in your potential. It's an entrepreneurial approach where you'll have the opportunity to expand your own role based on your strengths and the opportunities you see, in order to grow your career.

Is a job guaranteed at the end of the Program?

The Program is designed to develop and retain young talented professionals; however, there is no guarantee of a position following the Program. This will be based on business needs and your performance during the Graduate Program.

Can I apply to more than one position offered in the Graduate Program?

You can, although we encourage you to apply only to the position(s) that best aligns with your experience, strengths and passions.

Will I receive compensation during the Graduate Program?

All Graduate Program employees are full-time and thus receive benefits and a salary.

Can I apply to the U.S. Graduate Program if I am not a U.S. Citizen? Is the Program available in other countries?

All employees in the United States require US work authorization. If you're able to provide proof of authorization to work in the US, we encourage you to apply! If you are not currently authorized to work in the US, don't despair - check out our other Grad Program opportunities by changing the 'location' of your search.

I'm interested in an internship/other job opportunities outside of the Graduate Program. Where can I find more info and how can I apply?

We love hearing that you want to join our team! Please find more information about all opportunities on our jobs site: https://jobs.redbull.com/us-en.