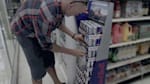 SALES MANAGERS
On the front line
Become an Account Sales Manager — the face of Red Bull Distribution Company to our retail customers.
A way of life
Red Bull Account Sales Managers (ASMs) are at the heart of our success. They go above and beyond, to increase product sales and placement, at every opportunity. They establish and maintain relationships, and drive business results through effective selling and exceptional customer service. Follow along this journey as we deliver you a taste of the ASM lifestyle. If you're interested in joining a winning team, pop open an ice cold Red Bull and let's talk.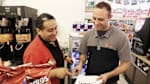 MISSIONE ONE
Build meaningful relationships
As an Account Sales Manager for Red Bull you're doing more than just turning heads. Equipped with market insights, an innovative sales approach, and professional business expertise, you will partner with large and small format store owners to provide best in class service.
The Key Areas
Account Management
Inventory management, merchandising, promotion support & new business development
Execution
Build & protect the Red Bull brand by maximizing distribution and securing high value retail space
Market Intelligence
Partner with customers by providing market insights & strategic business solutions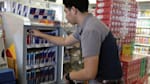 Power selling
Have you ever gone to reach for an ice cold Red Bull and come back empty handed? We sure hope not. Because being a business-savvy Account Sales Manager you understand the importance of never missing a sales opportunity. At Red Bull you're empowered to drive new business and ensure your customers have exactly what they need to win the day, through Power Selling. Power Selling is the framework designed to; improve selling skills, stand out among competition, raise Red Bull selling standards, and achieve your targets.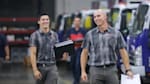 MISSION THREE
Just keep winning
As part of a highly motivated team, you dominate the market by working hard and being yourself. Go the distance. Use your talent and passion to develop yourself and to make an impact in your community. It's all in a day's work to drive results.
The Red Bull Distribution Company
Red Bull JOBS
Looking for something else?
Check out other opportunities at Red Bull. We'd love to welcome you aboard!
Type any country, city, state...
More from the world of Red Bull