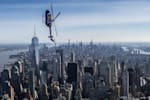 Red Bull North America
United States
Red Bull launched in the US in 1996, 9 years after the first can of Red Bull was sold in Austria in 1987. This created the launch of what was a whole new product category - Energy Drinks.
Today, Red Bull operates in over 170 countries, selling almost 7.9 billion cans annually and growing! Above all, our people remain the essential ingredient in bringing the Red Bull brand to life; providing the forum for you to use your talent, follow your passion and make an impact. Red Bull North America is made up of more than 4,500 dynamic, creative individuals working together to grow the brand and deliver great products and experiences, Giving Wings to People and Ideas.
OFFICE SPOTLIGHT
Santa Monica
OUR PEOPLE
Red Bull North America
Most jobs take energy - these ones give it
Red Bull
Giving Wings to People and Ideas
Showcasing our local heroes, events and projects
Local Projects
The World of Red Bull is filled with adventure, culture, sports, and innovation. Everything Red Bull does is localized, unique, and delivers on the mission to Give Wings to People and Ideas.
Local Heroes
We team up with American athletes and artists to help them hone their talents, achieve their goals, support their communities, entertain and inspire others and constantly innovate, moving their discipline forward.
Local Events
Our events enable once-in-a-lifetime experiences where the participants are heroes of the day!
OUR LOCATIONS
You'll find us in over 170 countries
Red Bull JOBS
Join the team in the US
Type any country, city, state...
More from the world of Red Bull