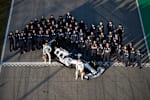 Scuderia AlphaTauri - Senior Vehicle Dynamics Engineer
Scuderia AlphaTauri S.p.a.
Faenza
Italy
In this role, you will responsible for developing the understanding of chassis dynamics and guide the development and design for optimum Scuderia AlphaTauri cars performance. You will focus on support & development-related activity including working with other groups and external partners, to achieve the development targets for both current and future cars.
RESPONSIBILITIES
Areas that play to your strengths
All the responsibilities we'll trust you with:
ALWAYS WORK IN A PROFESSIONAL MANNER REGARDLESS OF THE TASK SET AND BE PRO-ACTIVE IN PROMOTING A POSITIVE IMAGE FOR THE DEPARTMENT/TEAM/SPONSORS
EXPERIENCE
Your areas of knowledge and expertise
that matter most for this role:
Have previous relevant experience working within a high-level motorsport environment.
An understanding of suspension definition and optimization including ride performance, interaction with vehicle platform control and balance and tyre optimization.
An understanding of brake system physics and optimization including interaction with brake-by-wire systems.
An understanding of power unit optimization and formulation of models using rig and track data.
Experience in analysing competition vehicle performance.
Experience of rig and dyno data analysis tools and correlation to car data.
Experience of analysis tool and model development using ADAMS, Dymola & Matlab/Simulink.
Be able to demonstrate an innovative and flexible approach to process development, problem solving and possess the ability to work through problems in a scientific and analytical way.
Have good communication and analytical skills and be able to work to tight deadlines, often under pressure.
Be highly self-motivated, thrive in a challenging environment and have a flexible approach to working hours and a high level of responsibility.
Qualified to at least degree level in an Engineering Discipline.
Fluency in English
Travel up to 10%
RELATED OPPORTUNITIES
Looking for something else?
Type any country, city, state...
Red Bull
Giving wings to people and ideas since 1987
In the 1980's Dietrich Mateschitz developed a formula known as the Red Bull Energy Drink. This was not only the launch of a completely new product, in fact it was the birth of a totally new product category.
The company beyond the can
What drives us
Chasing our potential
Since the early days of Red Bull, an entrepreneurial mindset has always guided our approach to work and the environment we create:
From the World of Red Bull