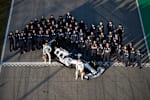 Scuderia AlphaTauri - Partnership Manager
Scuderia AlphaTauri S.p.a.
Faenza
Italy
In this role you will be responsible for managing the operational relationship with your allocated sponsor(s) and you will be responsible for maximizing the potential of each sponsorship that you is looking after. You will liaise with the different stakeholders involved in a sponsorship (partner / agencies / internal departments) and you will ensure that the contractual assets and services are delivered.
RESPONSIBILITIES
Areas that play to your strengths
All the responsibilities we'll trust you with:
EXPERIENCE
Your areas of knowledge and expertise
that matter most for this role:
Strong, broad understanding of marketing activations
Outgoing personality with capability to speak in front of an audience
Highly motivated and proactive approach
Delivers timely information and reporting (delivering to deadlines set on the job list and keeping on top of communication).
Ability to work with the team, external suppliers and colleagues
Very good English skills Additional languages beneficial
Travel up to 75%
RELATED OPPORTUNITIES
Looking for something else?
Type any country, city, state...
Red Bull
Giving wings to people and ideas since 1987
In the 1980's Dietrich Mateschitz developed a formula known as the Red Bull Energy Drink. This was not only the launch of a completely new product, in fact it was the birth of a totally new product category.
The company beyond the can
What drives us
Chasing our potential
Since the early days of Red Bull, an entrepreneurial mindset has always guided our approach to work and the environment we create:
From the World of Red Bull