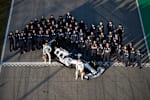 Scuderia AlphaTauri - Speculative Application Aerodynamics

Bicester
United Kingdom
If you're interested to join Scuderia AlphaTauri Team and you cannot find any vacancy in line with your experience, you can send us here your CV!
RESPONSIBILITIES
Areas that play to your strengths
All the responsibilities we'll trust you with:
EXPERIENCE
Your areas of knowledge and expertise
that matter most for this role:
Strong problem-solving and analytical abilities
Able to communicate clearly and concisely
Able to effectively manage tasks under high pressure working conditions
High degree of attention to detail
Creativity & Innovation
RELATED OPPORTUNITIES
Looking for something else?
Type any country, city, state...
Red Bull
Giving wings to people and ideas since 1987
In the 1980's Dietrich Mateschitz developed a formula known as the Red Bull Energy Drink. This was not only the launch of a completely new product, in fact it was the birth of a totally new product category.
The company beyond the can
What drives us
Chasing our potential
Since the early days of Red Bull, an entrepreneurial mindset has always guided our approach to work and the environment we create:
From the World of Red Bull