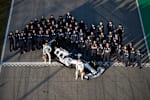 Scuderia AlphaTauri - Senior Software Developer

Bicester
United Kingdom
Scuderia AlphaTauri is looking for a brilliant and experienced Senior Software Developer to join our Aerodynamic Technology team.
RESPONSIBILITIES
Areas that play to your strengths
All the responsibilities we'll trust you with:
EXPERIENCE
Your areas of knowledge and expertise
that matter most for this role:
Minimum 5 year work experience in the field with both frontend and server-side systems
Complete understanding of modern software development practices (source control, change management, automated testing, release procedures)
Solid knowledge of HTML/CSS
Experience with mockup and UI prototyping tools
Expertise in at least one programming language, preferably Python or Javascript
Capable of working to tight deadlines
Excellent communication skills
Natural problem-solving abilities
High degree of attention to detail
Database administration and performance tuning is a plus
Experience in Motorsports is a plus
Computer/Data Science qualification or similar discipline to degree level.
Fluency in English
RELATED OPPORTUNITIES
Looking for something else?
Type any country, city, state...
Red Bull
Giving wings to people and ideas since 1987
In the 1980's Dietrich Mateschitz developed a formula known as the Red Bull Energy Drink. This was not only the launch of a completely new product, in fact it was the birth of a totally new product category.
The company beyond the can
What drives us
Chasing our potential
Since the early days of Red Bull, an entrepreneurial mindset has always guided our approach to work and the environment we create:
From the World of Red Bull