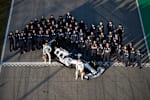 Scuderia AlphaTauri - Aerodynamic Surface Designer

Bicester
United Kingdom
Scuderia AlphaTauri is looking for an experienced Surface Designer to join our Aerodynamic department. In this role you will be responsible to generate the aerodynamic surfaces required to support the aerodynamic development programme.
RESPONSIBILITIES
Areas that play to your strengths
All the responsibilities we'll trust you with:
EXPERIENCE
Your areas of knowledge and expertise
that matter most for this role:
Excellent NX CAD skills.
Microsoft office literate.
Deadline driven.
Clear and concise communication, verbally and with the use of email.
Ability to plan and manage own workloads.
Ability to prioritise under tight deadlines.
Able to feedback suggestions for improvements.
Continual critical self-assessment.
Continual personal development with bias to time and quality efficiencies
Degree in Engineering
Fluency in English
RELATED OPPORTUNITIES
Looking for something else?
Type any country, city, state...
Red Bull
Giving wings to people and ideas since 1987
In the 1980's Dietrich Mateschitz developed a formula known as the Red Bull Energy Drink. This was not only the launch of a completely new product, in fact it was the birth of a totally new product category.
The company beyond the can
What drives us
Chasing our potential
Since the early days of Red Bull, an entrepreneurial mindset has always guided our approach to work and the environment we create:
From the World of Red Bull