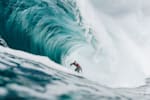 GOT QUESTIONS?
We got you covered.
Below you'll find answers to questions often asked about the Graduate Programme:
Where does the Graduate Programme take place?

You'll be based either in a country office or at our HQ in Austria. Depending on your job rotation you might get the opportunity to gain some experience abroad.

Should I apply for multiple Graduate Programmes at Red Bull?

We advise you to read through the different opportunities, consider where you'd love to go and apply for that specific role or Programme.

What if I'm interested in multiple Graduate Programmes?

We would advise you to only apply to the Programme that interests you the most. If you do however apply for multiple roles, you'll first be considered for your preferred one.

I'm interested in another opportunity apart from the the one's listed. Where can I find more information and how can I apply?

The Graduate roles listed are all that we have open this year. However, we love hearing that you want to join our team! Please find more information about all current vacancies on our job site: www.redbull.com/jobs. You could also consider applying for an Internship at Red Bull.

Can I apply if I do not have a work authorisation for the country I applied for?

All applicants for the Red Bull Graduate Programme require a work authorisation for the country of their application.

Can I still become a Graduate if I'm not done with my Master when the Programme starts in July?

Yes. You need to be done with one degree (e.g. your Bachelor), but don't need to be done with your Master yet.

Can I still become a Graduate if I am in my final year of my first degree?

No. If you don't have at least one finished degree by July you can't apply. As an alternative, you can check out our internship opportunities!

Can I become a Graduate if I already graduated from my studies?

Yes.

When does the Programme start & what is the duration?

The Programme lasts 18 months and the start date is July.

How do I apply for the Red Bull Graduate Programme?

Simply click on the "Apply" button for the role you are most passionate about, fill everything out and send it right our way.

In which language do I need to hand in my application?

Please submit your application documents in English.

Is a permanent job guaranteed at the end of the Programme?

The Programme aims to develop young talent and keep them within Red Bull. Unfortunately, there is no guarantee and this decision will be made individually.

What about payment during the Programme?

If you take part in the Red Bull Graduate Programme you'll receive a monthly salary. You'll be informed about salary more later on.