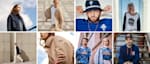 Fashion and FanWear
Full-time
Sportswear Designer - Apparel
Elsbethen
Austria
Performance, lifestyle, design.
The Red Bull Energy Wear team are responsible for an extensive product portfolio, including the Official Red Bull Athletes Collection and a large range of Red Bull FanWear Collections for projects such as Red Bull Racing, RB Leipzig, Red Bull BC One and many more. Join our Design team and take over creating premium products for our world-class athletes.
RESPONSIBILITIES
Areas that play to your strengths
All the responsibilities we'll trust you with:
EXPERIENCE
Your areas of knowledge and expertise
that matter most for this role:
5+ years' experience with performance wear
Lifestyle design experience is a plus
Excellent knowledge with technical workmanship
Excellent knowledge with fabric and trims for performance wear
Great Photoshop, Illustrator and InDesign skills
Very good with ergonomic design
Flexible, agile and dynamic mindset
Eager to try new things and able to manage multiple project simultaneously
University degree related to Fashion
Fluent in English
Travel up to 10%
RELATED OPPORTUNITIES
Looking for something else?
Type any country, city, state...
Red Bull
Giving wings to people and ideas since 1987
In the 1980's Dietrich Mateschitz developed a formula known as the Red Bull Energy Drink. This was not only the launch of a completely new product, in fact it was the birth of a totally new product category.
The company beyond the can
What drives us
Chasing our potential
Since the early days of Red Bull, an entrepreneurial mindset has always guided our approach to work and the environment we create:
From the World of Red Bull